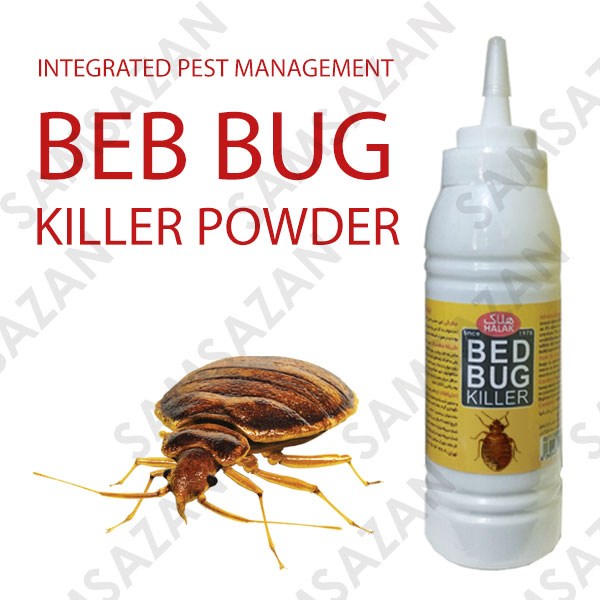 HALAK" Bed Bug Killer Powder"
What is bed bug killer powder:
HALAK Bed Bug killer Powder is a highly potent insecticide specifically formulated for the rapid eradication of all lifecycle stages of bed bugs.
Advantages :
۱- Powerful residual insecticide for rapid knockdown of bed bugs.
۲- Kills Bedbug in all lifecycle stages from eggs and nymphs to adults.
۳- Puffer pack for easy application to bed frames, floors, cracks and crevices.
Product information :
HALAK Bed Bug Killer Powder is a highly effective bed bug treatment powder that eradicate all the lifecycle stages of bed bugs. The active ingredient, Permethrin is a powerful broad-spectrum insecticide that provides lasting control against bed bugs.
The easy-to-use puffer pack makes for easy application to treatment areas and the powder based delivery method is ideally suited for use in areas close to the electrical
items and sockets, where a spray wouldn't be useable. The powder is an essential component of professional beg bug treatment.
Direction For Use :
HALAK Bed Bug Killer Powder should be applied to bed frames , divan bases and the areas of floor under and around the bed. The powder should be applied thoroughly with extra care to areas with cracks and crevices where bed bugs are likely to hide, the joints between frames and slates are prime examples. In areas where the powder could be disturbed and become transported by airflow, the powder should be vacuumed up after 30-60 minutes. In areas where the powder can't be disturbed and providing that children and pests don't have access to the areas, the powder can be left for longer.
Recommendations :
In order to achieve best and more rapid results and the greatest level of control, we recommend using the powder in conjunction with Samsalin Spray, Gas Burner Tablets and Bed Bug Killer Powder Kits. Our Bed Bug Treatment Kits include these three products and offer a comprehensive and powerful treatment and exceptional value.